Introducing the Schott 90th Anniversary Perfecto Jacket. Very limited stock. Come to Cato's and check it out.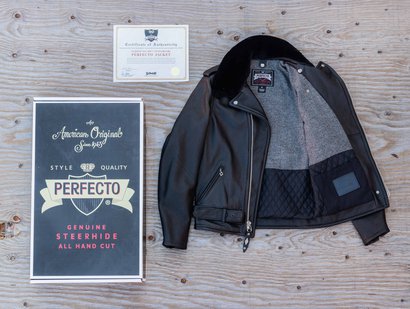 Limited Edition 90th Anniversary Perfecto Jacket with detachable fur collar.
This slim fit 26 inch long Perfecto is made from mid-weight, full aniline drum dyed, hand cut, waxy pebbled cowhide leather and includes a black detachable genuine mouton collar. The grey herringbone wool lining is complimented by a nylon quilted kicker for added warmth and padding. Features include antique zinc on the lapels, an exclusive Schott NYC logo snap cap on the back neck as a modernized design detail paying homage to the signature functional feature. The style also has a 1950's Perfecto label and 1950's style zippers featuring pressed metal sliders, U shaped top stops, and bridge stops for pocket zipper specifically plated for an aged finish. Oblong leather zipper pulls with authentic original hardware design, vintage replica stamped belt buckles round out the style.
Each jacket has an individually numbered leather patch on the inside map pocket, and is packed in a 90th anniversary box with an individually numbered certificate of authenticity with commemorative seal.
There will only be 500 of these jackets made worldwide.
Per90
Made In The
U.S.A.